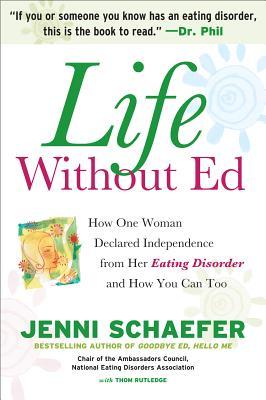 In 2006, I entered treatment for the first time. I also read Jenni Schaefer's book Life Without Ed. She externalizes and personifies her eating disorder as, "Ed," on par to an abusive husband who she has since divorced.
At the time, externalizing my eating disorder was helpful because up until that point, I was convinced that my eating disorder was, actually, me. When I read it, Life Without Ed changed the way I understood my eating disorder. I learned that I could survive the loss of my eating disorder. That was a profound realization for me. When losing my eating disorder felt like part of me had died, and I didn't know if I could pick up the pieces again, I had this: "Life without Ed is waiting for you/ Be strong keep the faith and you'll see it coming true/… You can believe in life without Ed."
I am not the only one who found comfort in Life Without Ed. During both of my stints in residential treatment, conversations were peppered with "Ed" lingo.
"Ed was really chatty today."
"Ed was driving me crazy. I told him to go home."
People in treatment would applaud and mmhmmmm. Head shake. Yeah Ed that jackass. He's the worst. 
I used that language too. I found this from one of my 2010 journal entries: "Ed has been my horrible husband for the last few years, and when I feel so bitter and angry, I come running back to him, abusive as he is, because he's familiar and comfortable."
Phrases like, "It's not you I'm mad at, it's Ed," or, "Tell Ed to shut up," were comforting to me at the time. Besides, to be honest, if you don't drink the "Ed" Kool Aid, residential treatment can be a menacing nightmare. It is a pseudo-expectation that if you are in treatment, you will call your eating disorder "Ed" at some point. Ed is common treatment vernacular, the metaphorical elephant in the room.
Since I left treatment for the last time, the seasons have come and gone and the roller coast of life has continued. As I morphed and grew, I said goodbye to Ed, but in a different way. I have stopped calling my eating disorder "Ed," or by any other name, for that matter.
That has been my own personal choice, and I don't have anything against people calling their eating disorder by a name. Similar to this eloquent blogger, I am just trying to open the conversation up.
I don't think that "Ed"ing your way through recovery is the only way. 
There are some great reasons to externalize the eating disorder (ED) voice. But I am just going to say it: it is possible to go Ed-less. In this post, I am going to delineate some of the reasons that I have chosen life without the term Ed:
1. Because reducing my eating disorder to something outside of me does not take into effect that eating disorders are complicated diseases. What most worries me about the term "Ed" is that it has the potential for simplicity and reductionism. The whole of something cannot be reduced to the sum of its parts. An eating disorder is more than what the ED voice says. If it was only about telling Ed to shut the hell up, you might think that recovery would be easier. I recently donated my blood to support genetic eating disorder research. Why? Because, research wise, we know relatively little about eating disorders. Externalizing an ED may be helpful to sufferers but it is a shortcut, a heuristic. It may help someone for a period of time, and if it does, great, but "Ed" is a tool, not a solution. Pat answers to complex questions can be harmful if taken at face-value.
2. Because my eating disorder is a part of me. One of my favorite recovery books is Gaining by Aimee Liu (read it, seriously). In it, she interviews people who recovered from eating disorders decades ago, but she notices in them (and in herself) personality characteristics and other similarities to the ED that linger. I may not hear eating disorder thoughts for the rest of my life, nor will I give in to urges, but I believe that my eating disorder will always be a part of me in some capacity. In recovery, I have had to discover the scared, fearful voice inside and honor that voice. If my eating disorder thoughts are loud, I have to ask: Why? What is going on right now? Instead of screaming "ED I'M DIVORCING YOU" at the time of my lungs when an ED thought hits, I am now more likely to listen to what my internal voice is telling me and ask what I'm feeling and why.
3. Because the concept is a little strange. I get why people do it. Like I said, I myself called my eating disorder "Ed" for a while. But… can we for 2 seconds think that there might be down sides to using "Ed"? I mean, to state the obvious, my ED voice is not a person. It's not like I'm living with this asshole named Ed against whom I can file a restraining order, you know? For me, the idea of an abusive guy (or girl, whatever) in my head is not appealing at this point in my life. I've dated enough asshole guys, so why would I make up a nonexistent one and be in a pretend bad relationship with him? I am doing fine on my own, thanks. Also, could the term be demeaning to people who have undergone abuse or domestic violence? Could it be re-traumatizing even?
4. Because, quite frankly, calling my eating disorder "Ed" can be a cop out. "Ed was talking so loud" is a common sentiment you hear in treatment. Or even, "Ed was getting really worked up when you said x yesterday." Is saying something like that helpful? What about, "I was feeling really anxious today because I was thinking of x and did y, and I'm having issues coping with my anxiety. My feelings are overwhelming." Okay then! Now we have something to work with. That is taking the issue to its source. Blaming, sometimes scapegoating, Ed is not helping people to recovery. Eating disorder thoughts don't come out of a vacuum. I have to place them in their proper context and take responsibility for them.
5. Because, after a while, eating disorder recovery has less and less to do with the behaviors. At the end of the day, the reason I have stopped calling my eating disorder Ed is because the term is no longer relevant for me. I don't have regular urges to engage in eating disorder behaviors. I am not over my eating disorder completely just yet, but my recovery process has shifted. My therapist specializes in eating disorders. But do you know what we do NOT talk about 95% of the time in therapy? My eating disorder behaviors! Or my eating disorder at all. These topics are not agenda items. In fact, if my therapist made me set up a chair and do an "Ed's voice- my voice" role play, I'd stare at her and then probably get pissed. Those things might have worked for me at one time, but they no longer do.
I met Jenni Schaefer at an event earlier this year. She signed a bumper sticker for me that is pink and has a line through the word Ed. I have placed it on a binder for my school papers. I don't hate Life Without Ed. I don't read it anymore, but I don't hate it. If it works for you, fabulous, keep using the term.
What I get concerned about is the fact that there is an expectation, or to get punny, an EDspectation, that if you have an eating disorder, his name must be Ed. Ed is preferable, Ana or Mia are secondarily accepted.
Externalizing is not the only way of recovering from an eating disorder.  Or, "Ed" may work for you for a reason of your life, and then it may become irrelevant. The "Ed" label no longer fits in my personal recovery journey. And that's okay.
Like this blog post says, some people may find the term belittling. Some may feel invalidated by it. Some may find it simplistic. Others may find it to be a brilliant way of breaking from of an eating disorder's tight grip. Great. But let's at least talk about it.
Foregoing the term "Ed" does not constitute recovery heresy.
Just saying.